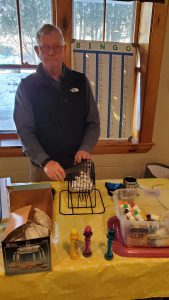 Bingo Brunch – Our way to do a social gathering during the winter months, was a lots of fun! Everyone brought dish to share and there was plenty for everyone. Prizes included bags of candy, Christmas items, sudoku game and some household goods. The last game was a 50/50 payout of the pot and the winners were…. Judy and Brenda!
Historically we have been a community  church, committed to strengthening our ties to the Raymond Community and providing opportunities for fellowship throughout the Town.
Here are a few of the ways we encourage community here in Raymond:

Pot Roast Suppers – We historically put on five public suppers during the summer and fall.   We continued our take out only suppers during 2023. Orders are made in advance and pick-ups are requested to help with the scheduling.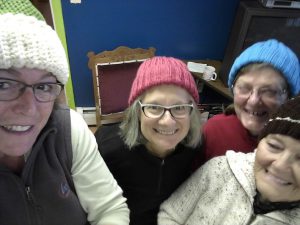 Knitting & Crocheting Group – Started in 2019, this group meets every 2nd and 4th Tuesday of the month. Everyone in the community is invited to attend. Initially a group to provide a source for learning and sharing this craft, it has evolved to provide social contact and charitable projects. Knitted and crocheted prayer shawls are one of these projects but also knitted caps for the Seafarer's Mission. For 2023 the group will focus on children' and young adult's hats, mittens, scarves, socks and sweaters for the Kazakhstan mission. 
Sweetheart Brunch – Each Valentine's Day a special brunch is provided for all to come together and celebrate. This heart themed brunch is a wonderful way to celebrate the spirit of love on Valentine's Day.
LINE DANCING, YEAAAH!!!!  Classes will be in the Church Vestry Friday.  All classes will run from 10:00-11:30. Looking forward to seeing some new faces as well as our dedicated familiar ones. Lets get moving!! Your instructor: Maggie Holnaider, email: mooseltoe15@gmail.com.
Past Activites
Free Community Meals – Throughout the year we provide free meals to our community. We have partnered with RSU 14's Katahdin Program allowing their students to bring their kitchen to our community.
These meals provide an opportunity for our community to get together and make new friends while enjoying a home cooked meal.  See https://www.pressherald.com/2019/12/06/students-take-to-the-kitchen-for-community/
If you have an event you would like to host at our church or you want more information on any of these events and activities, please e-mail us at office@rvccme@org