Sunday School: Nursery/Kindergarten
Faith formation begins with our littlest children at RVCC in our warm and caring nursery/kindergarten classroom. Infants are cuddled and rocked and cared for by adults and experienced high school babysitters. Parents are always invited to stay if they so choose.
Through a combination of playtime, snack, and circle time, toddlers, preschoolers, and kindergartners begin to learn about Biblical stories, how to pray, who God is, and how to respect one another. This gentle and age appropriate curriculum has introduced the Christian faith to youngsters at RVCC for decades!
Sunday School: Grades 1 through 5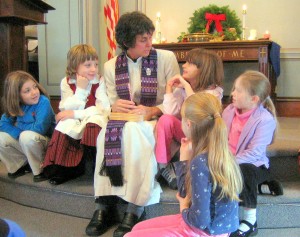 We currently use the Spark Online curriculum for our younger children through Grade 5.  With Spark as the foundation, the children study Bible stories using a modified rotation model.  The approach is action-oriented as the children learn about each Bible passage from several perspectives, such as cooking, science, art, and drama.  Bible passages have included such topics as the story of Solomon and his Temple, the Good Samaritan, the Disciples, Moses, Noah and the Ark, and the Lord's Prayer.
Summer Sunday Children's Program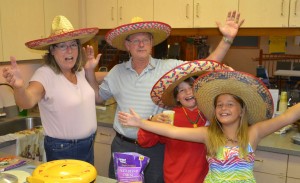 Because we encourage families to come to worship even during the summer, we offer a Vacation Bible School format program during the summer months for children entering grades 1 and above.
Children meet with a teacher every Sunday during the worship service for a casual summer program with a distinctive theme and age appropriate activities including singing, dancing, arts and crafts, and Bible stories – and snacks!
Youth Group
Our Youth Group is for kids in grades 6 and above, and our program is founded on the "Three S's": service, social, spiritual.  The youth group enjoys a monthly Saturday evening pizza and movie night and occasionally participates in worship.  The Youth Group has enjoyed participating in a U.C.C.- sponsored weekend at H.O.M.E. (Homemakers Organized for More Employment) and traveling to Boston to serve lunch and participate in worship at the Common Cathedral.
Click on these links to see more of our Youth Group activities (including our trip to H.O.M.E.) and our trip to the Common Cathedral:
Celebrate Youth! – http://www.youtube.com/watch?v=jK8fq8Y0L6k
Common Cathedral Mission Trip – http://www.youtube.com/watch?v=RGCoO-jDi0k
 Adult Discussion Groups
We believe that learning about your faith story and heritage should not end with Sunday School. In a variety of small groups throughout the year, we offer adults a chance to study the Bible and read other thought-provoking books together to deepen and enrich their spirituality. All people interested in exploring some of "big questions" are welcome to attend any adult discussion group. We're friendly folk here, so come and join the discussion. All opinions and views are respected and welcome!
We have offered classes on many Biblical books from Genesis to Revelation, from the Gospels to the letters of Paul.  In addition, we have studied several books  by progressive theologian, Marcus Borg, as well as essays on creation care and sustainability.