---
Outreach and community service is a very important part of our identity as a Christian congregation.  We affirm our United Church of Christ Statement of Faith that we are called to be servants "to the whole human family."  We seek to respond to Jesus' call to minister to the powerless throughout the world.
Our mission initiatives focus on providing the foundation for economic and cultural sustainability to men, women, and children locally, nationally, and globally. In addition, we encourage our members to begin new mission initiatives that reflect their particular interests and passions.
---
CURRENT SERVICE INITIATIVES
United Church of Christ Mission Offerings
We actively support Our Church's Wider Mission and the four United Church of Christ Special Offerings, which are Neighbors in Need (traditionally received in October), The Christmas Fund (December), One Great Hour of Sharing (March), and Strengthen the Church (May). Since 2005, the Maine Conference UCC has recognized the Raymond Village Community Church for its continued commitment to these mission offerings.
Heifer Project
Our Sunday School participates annually in the Heifer Ark Project. The children raise money for farm animals for needy families in the US and globally. Each year they choose the type of animal they would like to purchase and learn about the importance of focusing their mission efforts on economic sustainability.
Health and School Kits
We work with Church World Service each year to provide health items and school supplies for impoverished children and families throughout the world as well as though those coping with natural disasters such as hurricanes and earthquakes. We typically put together about 40 school and health kits.
Fairly Traded Coffee
We voted to become a "Fairly Traded Coffee Congregation" in November, 2005, and so we seek to serve only fairly traded coffee at all church functions.
Young Adult Care Packages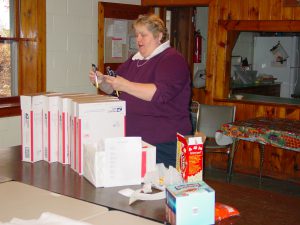 Twice a year, we send a care package of food, non-perishable items, and cards to college students and young people serving in the military who are associated with our church family. Some of these students and military personnel grew up in the church, and others are grandchildren of church members.
 Good Friday Hunger Walk
For over 25 years, we have coordinated this mission project with the nearby Casco Village Church. Youth and adults from both churches together walk about 8 miles from one church to the other and raise money through pledges for local food pantries. A simple soup and bread lunch awaits the walkers at the finish. Each year, a few hardy souls begin at 5:30 A.M. and walk both ways for a total of 16 miles!
Thanksgiving Food Baskets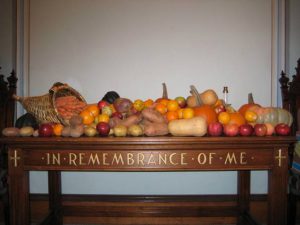 We team with the Town of Raymond and Christ Chapel to provide between 60-70 Thanksgiving baskets for needy local families. Our baskets include a turkey and all the fixins' as well as additional canned and fresh food. The congregation donates needed items throughout the month, culminating in an inspiring worship service on Thanksgiving Sunday.
Christmas Mitten Tree
Our congregation adopts a local family with children each Advent. We provide gifts for each family member as well as vouchers for food and heating oil.
 Mission Trips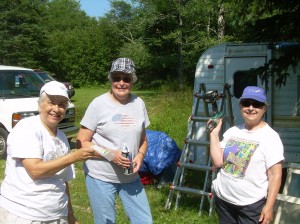 We believe that mission and outreach should be more than writing checks.  Consequently, we provide opportunities for intentional hands on ministry through mission trips.  Groups from our church have done home repair in Tennessee through F.A.S.T. (Faithful Advocates Serving Together) and, more locally, through  Maine Seacoast Mission.  Our youth have also shared worship and lunch with the homeless population of Boston through Ecclesia Ministries' Common Cathedral.
To see more about two of our mission trips, click on these links:
Common Cathedral – http://www.youtube.com/watch?v=RGCoO-jDi0k
Maine Seacoast Mission – http://www.youtube.com/watch?v=r0h1tnokKIE