Sunday Music in July
We are continuing to invite local and area musicians to share their musical gifts at our Sunday worship services. Here is the schedule for July:
July 1st – Lori Lambert (vocal and guitar)
July 8th – Gary Wittner (guitar)
July 15th – Our choir (see below)
July 22nd – Women Only Choir
July 29th – Adrienne Milics (vocal)
Patrick Martin will be our accompanist on the first four Sundays, and Cherie Moore will be playing piano on July 29th.
Throughout the summer, Patrick will be directing our choir on pieces from "Frostiana". Here's what Patrick has to say about these wonderful musical selections: "To ring in the beauty of summer, the Raymond Village Community Church Choir will be singing selections from Randall Thompson's "Frostiana". This set of seven country songs, set to text by the famed poet Robert Frost, was commissioned in 1959 for the bicentennial celebration of the incorporation of Amherst, Massachusetts."
In June we sang the keystone song The Road Not Taken, composed on the famous lines "Two roads diverged in a yellow wood and I… I took the one less traveled by". The pastoral theme was set with a singing of the piece The Pasture. This song ends with the lines "You come too", initiating the theme of coming and going that is seen in many of the other pieces in this work.
Continuing on this theme is The Telephone where the protagonist listens intently to a flower and hears it say "Come". From here we enter the forest, following the call of the wood thrush and not knowing whether going forward will lead to a happy ending or not.
Finally we sing The Girls Garden a comedic retelling of a girl's request for a farm and the lessons learned from this adventure. The RVCC choir hopes you enjoy this beautiful music."
__________________________________________________________________________________________
Our Adult Choir invites anyone who loves to sing and learn new music to rehearse with them.
The Adult Choir sings in worship a couple of times a month year round.
The Very Occasional Men's Choir encourages men and boys of any age who love to sing to join them. This eclectic gathering of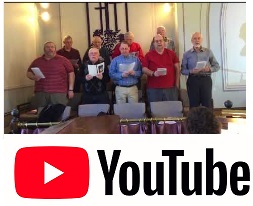 gentlemen (sometimes as many as 12-15 strong) sing in worship a few times each year. Though they participate with minimal rehearsal time, they are always willing to take on the challenge of learning the music at hand simply for the joyful pleasure of singing!
We also invite guest musicians to participate in worship with us a couple of times a month. We have had a ukulele orchestra, a classical oboist, and jazz guitarist join us. We also encourage area college and high school students to share their musical gifts with us in a safe and accepting venue.