Sunday Music in September
Our wonderful and varied music program continues in September. Patrick Martin will be on piano the first four Sundays. Here are the special musicians you can look forward to hearing:
September 2 – Hugh Maynard (oboe) – You might have heard Hugh play last winter. If so, you know you are in for a treat. Hugh has been playing the oboe for decades and recently was part of the pit orchestra for "Titanic" at Portland Players.
September 9 – Sigrid Sibley has shared her musical talent with us before. She is a student at the USM Music School in Music Education. Sigrid is a vocalist who plays guitar and mandolin.
September 16 – Patrick will be directing our full choir.
September 23 – Lori Lambert and Caryl Gilman will sing together with Patrick accompanying them.
September 30 – Aban Zirikly
__________________________________________________________________________________________
Our Adult Choir invites anyone who loves to sing and learn new music to rehearse with them. The Adult Choir sings in worship a couple of times a month year round.
The Very Occasional Men's Choir encourages men and boys of any age who love to sing to join them. This eclectic gathering of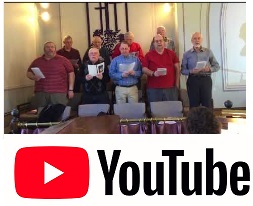 gentlemen (sometimes as many as 12-15 strong) sing in worship a few times each year. Though they participate with minimal rehearsal time, they are always willing to take on the challenge of learning the music at hand simply for the joyful pleasure of singing!
We also invite guest musicians to participate in worship with us a couple of times a month. We have had a ukulele orchestra, a classical oboist, and jazz guitarist join us. We also encourage area college and high school students to share their musical gifts with us in a safe and accepting venue.