June Music
June 17th- Patrick Martin on piano with our full choir singing. Patrick Martin will be introducing a summer series entitled
"Frostiana". These choral anthems are familiar Robert Frost poems set to music that the poet himself collaborated on.
June 24th- Patrick Martin on piano with Jake Cooper on classical guitar. Jake is a classical guitar student at USM.
Music is such a powerful way to express our spirituality, and so we strive to "make a joyful noise" through a variety of groups and styles of music. During Sunday morning worship, we sing both old and new hymns, praise songs, and world music.
________________________________________________________________________________________
Our Adult Choir invites anyone who loves to sing and learn new music to rehearse with them.
The Adult Choir sings in worship a couple of times a month year round.
The Very Occasional Men's Choir encourages men and boys of any age who love to sing to join them. This eclectic gathering of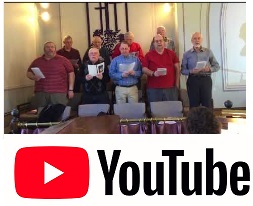 gentlemen (sometimes as many as 12-15 strong) sing in worship a few times each year. Though they participate with minimal rehearsal time, they are always willing to take on the challenge of learning the music at hand simply for the joyful pleasure of singing!
We also invite guest musicians to participate in worship with us a couple of times a month. We have had a ukulele orchestra, a classical oboist, and jazz guitarist join us. We also encourage area college and high school students to share their musical gifts with us in a safe and accepting venue.